Posted by Cas | Filed under SpeedrunnerHD, Design
Hi all!
Today I'd like to talk about some of the changes I've made so far in the rules of Speedrunner's multiplayer mode. The inspiration for writing this post came from seeing this video in which four enthusiastic French players play a couple of exciting multiplayer matches. It's a really fun video, as the guys all even dress up as their game character!
Anyway, seeing that video made me attentive to the small changes I've made in the rules of a speedrunner multiplayer match, and I wanted to share these changes with you, so that you can already give me feedback if you think those changes are for the good or for the bad.
Posted by GJ | Filed under SpeedrunnerHD, Award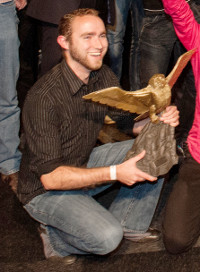 Last week, Casper asked me to explain why online multiplayer is taking us so long to get done. But before I do so, I would like to begin by mentioning that Speedrunner HD won the Dutch Game Award for Best Game Animation! The Dutch Game Awards are sort of the Oscars for the Dutch game industry so naturally we are pretty excited. Here's a picture of all the award winners holding their giant golden cyborg owls; you can see Casper in the bottom left looking happy and a bit overwhelmed. Congratulations to Frank Post, our animator, and to the other winners as well (yes, even to Ronimo who bested us in the 'Best PC/Console Game' category)!
Anyway, the now (physically*) 'award winning' Speedrunner HD has become a bit of a victim of it's own success. We started DoubleDutch Games back in 2010 with SpeedRunner as our first game. We never expected the flash game to do as well as it did (it has actually surpassed 10 million views by now!). And we also didn't expect people to enjoy the local multiplayer as much as fans tell us now. The Xbox version of Speedrunner also opened the door to Steam, so all in all Speedrunner is doing much better than we had ever dared to hope it would.
Posted by Cas | Filed under SpeedrunnerHD
Hi all,
as promised (though a bit late as usual), here's another update on Speedrunner's progress.
This week I come with some bad news and some good news. Starting with the bad news, this friday we had a little talk with our friends/competitors of Ronimo Games (specifically Joost van Dongen, who maintains a very interesting blog). Since they developed the aptly named Awesomenauts, complete with online multiplayer, we figured they could probably have some interesting insights to share with us. And so they did, in a very humbling talk that made it clear to us that we still have a lot of work to do with Speedrunner. So much in fact, that we're doubting whether or not we'll even be able to finish the game in 2013..
Yes, you've read that correctly, we're now thinking of a release date somewhere in 2014.
However, I also said we had some good news. The good news is that we've found someone to help us with development; a teaching colleague of mine from the Hogeschool of Amsterdam named Koen Bollen. Koen is a very talented programmer, currently also working with other collegues from the Hogeschool ...
Posted by Cas | Filed under SpeedrunnerHD, Award
Hi all!
So.. the development of Speedrunner's online multiplayer component is still taking a while, but I know you're anxious for some news. Unfortunately, we don't have a release date yet - and we're also not sure when we'll start beta testing. Sorry! We're working really hard on it, and we're even looking to add an additional member to our team for this. I think we've underestimated a bit just exactly how difficult it was going to be to implement online multiplayer in a fast-paced platformer like Speedrunner. I guess that's why I haven't seen it in many other games yet ;)
Anyway, I do want to provide you guys with some news, so I've decided to write some things on the new features that you can expect in the PC version of the game, and to post these once a week.
So, let's start with a new feature we call 'Hardcore Mode'. I've written briefly on this before; basically it's similar to Super Meat Boy's Dark World in that it provides an alternate version of each level, unlocked by collecting a gold medal. These alternate version ...
Posted by Cas | Filed under News, SpeedrunnerHD, Steam
Hi all!
Today, I'm very excited to finally announce that, yes, we are bringing Speedrunner HD to the PC, and yes, it is coming out on Steam!
Since the game was first released on Xbox Live Indie Games, we've been receiving a lot of requests from players who would like to see the game on PC so that they could play against their friends online. Well, we couldn't agree more!
Readers of our blog might have already known that we were working on bringing the game to PC, but now the rest of the world will know as well, including the fact that it's actually coming out on Steam.
Besides offering more content and an online multiplayer mode, we're also working on implementing an advanced leaderboards and ranking system, which will allow players to really show who is the best Speedrunner in the world!
Now, with all the work that still has to be done (and the other game, Chaos Battle, that we're also working on), it's difficult to say when the game will be finished, so we don't have an official release date for you yet.
But stay tuned, we're ...
Posted by Cas | Filed under SpeedrunnerHD, Chaos Battle
Hi all,
it's been a while since our last status update, so you guys must be wondering what's going on.
Well, we're working on two projects nowadays, so we're actually really busy. First of all, we're still working on porting Speedrunner HD to the PC. I've already added quite a lot of new levels and content (we're up to 30 levels now, all of which have "extra difficult" versions, similar to the Dark World of Super Meat Boy, so that's basically 60 levels), and Gert-Jan added support for online multiplayer as well. However, there's still a lot that needs to be done before it's shippable, and Gert-Jan is also busy with moving to a new apartment, so progress is going a bit slow. We hope to have the PC version finished before the summer, but only time will tell.
Secondly, I am busy working on our next game, Chaos Battle, together with talented artist Robin Keijzer. A few weeks ago, I was struggling a lot with the design, but I'm really happy with how the game is working now, so hopefully I'll be able to show you guys ...
Posted by Cas | Filed under News, Chaos Battle, SpeedrunnerHD
Hi all!
We've got another update for you today, announcing the second playable character from our next game Chaos Battle. Head over to Robin Keijzer's blog to check out the Green Terror! .
Robin will be revealing the final two characters in the coming weeks, so check out his blog if you want to see more (it's got some great other stuff as well!).
On another note: we're also busy working on Speedrunner. We've got some great new levels, and hopefully an exciting announcement.. soon. So stay tuned!
Posted by GJ | Filed under News, SpeedrunnerHD, Award
Hi all! Just a quick post to share the awesome news that Speedrunner HD has recently been voted by the readers of Indie Game Magazine as the best XBLIG Game of the year 2011! It means a lot to us to get this kind of recognition, and it motivates us to do even better in 2012!
A big thank you to everyone who voted for Speedrunner HD!
Posted by GJ | Filed under Release, News, SpeedrunnerHD, Release notes
Today we released the second patch for Speedrunner HD on Xbox Live Indie Games. Scroll down to the bullet point list if you just want to see the changes in this update.
This patch coincides with the release of the soundtrack of Speedrunner HD by Jonathan vd Wijngaarden, just like we had planned! Head over to http://www.speedrunner-game.com/soundtrack to check it out.
Actually though, we had hoped this patch would be released somewhere around christmas last year (that sounds like a long time ago!). However, we didn't quite make that deadline. What happened?
Well, during a multiplayer playthrough of Speedrunner, back in November, we found some remaining rare bugs which I (GJ) really liked to fix, and we weren't the only ones who noticed either. Because it's a time intensive effort to release a patch on XBLIG we usually like to add some new content as well. So, Casper added some much requested new multiplayer levels, raising the total number of multiplayer levels from 5 to 7.
Industry: Factory is the spike production facility (so now you know where all those spikes are coming from!). It's level where -you guesed it- a lot ...
Posted by GJ | Filed under News, SpeedrunnerHD, ChoasBattle
As you may know from a recent post here and our twitter stream, Casper has been working on a new DoubleDutch game. This game was in need of some pretty artwork, but unfortunately Gerrit Willemse, who did the art for Speedrunner, did not have time to help us out this time.
This opened the opportunity for us to contact Robin Keijzer, whose work we have been admiring for quite a while, as he was the art director at Playlogic for the Xbox 360/PS3 game Fairytale Fights. We think his crazy awesome art style will work very well with this new game, and luckliy, he was able to find some time to work with us on this new game!
Currently, quite a bit of art is already done, and we are ready to slowly start showing off some of it. The first piece of art to be released is a concept of one of the four playable characters in the game. We don't have a name for this character yet and we would love to hear your suggestions!
Head over to Robin's blog post to see the larger image. While you are there, be sure to check out ...
Older