Posted by GJ | Filed under SpeedrunnerHD, Award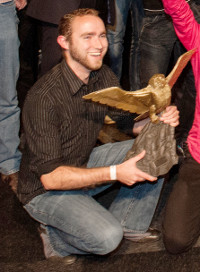 Last week, Casper asked me to explain why online multiplayer is taking us so long to get done. But before I do so, I would like to begin by mentioning that Speedrunner HD won the Dutch Game Award for Best Game Animation! The Dutch Game Awards are sort of the Oscars for the Dutch game industry so naturally we are pretty excited. Here's a picture of all the award winners holding their giant golden cyborg owls; you can see Casper in the bottom left looking happy and a bit overwhelmed. Congratulations to Frank Post, our animator, and to the other winners as well (yes, even to Ronimo who bested us in the 'Best PC/Console Game' category)!
Anyway, the now (physically*) 'award winning' Speedrunner HD has become a bit of a victim of it's own success. We started DoubleDutch Games back in 2010 with SpeedRunner as our first game. We never expected the flash game to do as well as it did (it has actually surpassed 10 million views by now!). And we also didn't expect people to enjoy the local multiplayer as much as fans tell us now. The Xbox version of Speedrunner also opened the door to Steam, so all in all Speedrunner is doing much better than we had ever dared to hope it would.
Posted by Cas | Filed under SpeedrunnerHD, Award
Hi all!
So.. the development of Speedrunner's online multiplayer component is still taking a while, but I know you're anxious for some news. Unfortunately, we don't have a release date yet - and we're also not sure when we'll start beta testing. Sorry! We're working really hard on it, and we're even looking to add an additional member to our team for this. I think we've underestimated a bit just exactly how difficult it was going to be to implement online multiplayer in a fast-paced platformer like Speedrunner. I guess that's why I haven't seen it in many other games yet ;)
Anyway, I do want to provide you guys with some news, so I've decided to write some things on the new features that you can expect in the PC version of the game, and to post these once a week.
So, let's start with a new feature we call 'Hardcore Mode'. I've written briefly on this before; basically it's similar to Super Meat Boy's Dark World in that it provides an alternate version of each level, unlocked by collecting a gold medal. These alternate version ...
Posted by GJ | Filed under News, SpeedrunnerHD, Award
Hi all! Just a quick post to share the awesome news that Speedrunner HD has recently been voted by the readers of Indie Game Magazine as the best XBLIG Game of the year 2011! It means a lot to us to get this kind of recognition, and it motivates us to do even better in 2012!
A big thank you to everyone who voted for Speedrunner HD!