Summer Uprising, Press coverage and.. a Release date!
Posted by Cas | Filed under Release, News, SpeedrunnerHD, IGSU, Trailer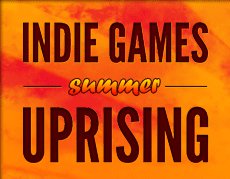 So it's regularly getting kind of quiet here on our blog. As you can imagine, we're usually really busy with the development of Speedrunner and this can sometimes cause us to forget about you; our fans! In an effort to make up for lost time, we present you some news facts and updates:
First of all, we were selected to be a part of the Xbox Live Indie Games Summer Uprising! This promotion is all about promoting Xbox Live Indie Games in the best light possible by showcasing the diversity, talent, and potential of the platform as a whole. The XBLIG development community voted on what they believe are the best titles to represent the platform, and we're really happy to be amongst those titles. The promotion will run from August 22nd to September 2nd, in which one of the 10 chosen games will be released each day.
This means that Speedrunner HD will also be released somewhere between August 22nd and September 2nd! And that's official! Really!
We haven't established an exact date yet, but we'll make sure to update this site (and our facebook and twitter pages) when we do.
The Summer Uprising has already garnered quite a bit of press, and most sites are really liking Speedrunner. See for instances this MTV Multiplayer blog.
Speedrunner HD and the Summer Uprising were also featured on a LOT of other sites, including Gamasutra, Kotaku, Joystiq, DIYGames, Indiegames.com and more. We received a lot lof love in the readers' comments, which made us of course very happy.
On top of that, we also did a couple of interviews on the development of Speedrunner HD, and the #IGSU in general. Read all about it here:
Indie Gamer Chick
Indie Games Channel
Finally, did we already mention the trailer for Speedrunner HD? NO? Well go and check it our here!
Currently, Gert-Jan and I are really busy with wrapping the game up for release. In order for us to be sure that the game is available on the xbox during that 10 day period, we need to have the game finished by August 8th. Foreseeing as I always am, I had already planned to be on vacation in Aruba by then, which means my work on the game needs to be finished by July 29th. After that, Gert-Jan has a week to finish up any last details. "But wait", you say, "July 29th.. that's tomorrow!" Oh dear lord, yes it is! I'd better get back to fixing those bugs!
See ya!
Previous Post
Next Post
Comments
blog comments powered by

Disqus